When the Easter Bunny can't hop over to deliver British Easter goodies, you know you can trust our British Gift Boxes to arrive anywhere in the world.
We are excited to announce our two new Easter British Gift Boxes, packed full of delicious chocolatey treats to delight the taste buds and get you jumping into the Easter spirit!
Choose between our two boxes, the Cadbury Easter Treasures Box (as chocolatey as it sounds) or the Ultimate Easter Celebration (complete with an unbeatable variety of yummy Easter essentials).
Cadbury Easter Treasures
As the name suggests, this is an all-Cadbury box for people who miss or really love British chocolate, including chocolate bunnies and eggs of all sizes. The perfect gift to excite children, but also for those adult chocoholics in your life!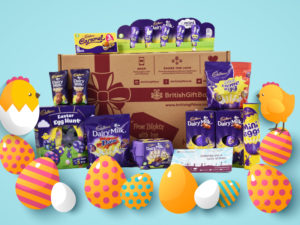 Buy the Cadbury Easter Treasures Box
Ultimate Easter Celebration
The perfect box for sharing as a family! As well as chocolate eggs and animals, this also includes a GIANT marshmallow chick, and Easter Jelly Babies… the perfect treat to get into the Easter spirit.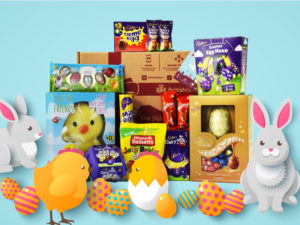 Buy the Ultimate Easter Celebration
Happy Easter from our team! Make sure nobody is missing out across the world. Delight friends and family with the arrival of a box of treats in time for Easter Sunday – the Ultimate Easter Celebration even comes with an Easter egg hunt for the whole family to enjoy!